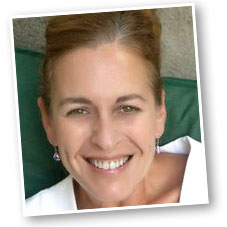 "Of all the stupid things I've done in my life," says journalist Julie Mautner, "running away to live in Provence was definitely the smartest."
An American food, wine and travel writer now spending most of the year in the South of France, Julie writes for magazines and websites in the U.S., France and the U.K. Since she left New York and her job as executive editor of Food Arts Magazine in 1998, she has published hundreds of articles for magazines and sites including NYTimes.com, Travel & Leisure, Conde Nast Traveller UK, Food & Wine, Bon Appetit, New York, Elle Decor UK, Financial Times, USA Today, Epicurious.com and many more.
Additionally, Julie's first book, The Food Network South Beach Wine & Food Festival Cookbook (Clarkson Potter, co-authored with Lee Schrager), was released on Nov 16, 2010, and has been receiving tremendous press.
It's her blog ProvencePost.com, however, where Julie really shares her passion for her adopted home. Provence Post has quickly become the place to go for the best insider info on this rich and glorious region.
"I think of Provence Post as a community paper," Julie says. "But the community I cover is a mindset as much as a real place. Sure, I might suggest a remarkable restaurant for lunch after the antiques market in L'Isle sur la Sorgue. But I also have loyal readers who've never set foot on French soil and there's plenty for them too."
On ProvencePost.com you'll find restaurant recommendations from famous local foodies such as Peter Mayle and Patricia Wells. You'll find the best vineyards to visit, suggested by top sommeliers. Other posts focus on trips and tours, art and antiques, photography and design, museums, architecture, history, parties, events, travel, gardening, food and more.
Nearby regions and attractions also find their way into the mix: new hotels in Morocco, for example, or a don't-miss exhibit in Paris. "I write about what I discover that's new, cool, creative, useful, funny, elegant, beautiful or delicious," Julie says.
Julie is often asked for tips on making an international move – to France or another country – and she has them by the bucketful because, she says, she did just about everything wrong.
"It wasn't like I was a longtime Francophile who had dreamed for years of the big move, all the while boning up on the people, history, culture and language," she remembers. "That's what a lot of people do, as it turns out. You know…smart people. I basically went to Provence on vacation, took one look around and decided New York and I needed a time out. I must have really needed a little adventure because I quit my job, sublet my apartment and rented a 19th-century house in St. Remy sight unseen. The idea was to live off my savings, get France out of my system and then go back to real life, whatever that meant. But I started freelancing immediately and my little escapade is now in its 13th year. Everything turned out beautifully but boy did I make huge, expensive, embarrassing mistakes along the way."
Pure Design are proud to sponsor and support Julie and hope you'll check out ProvencePost.com. Julie is available by phone and email for quotes and interviews.
juliemautner@aol.com
http://www.provencepost.com/