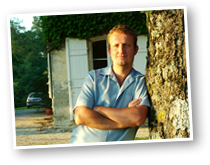 On the 9th November 2003 we packed our little Corsa up and set off down the M6 heading for the south of France. Today, we have celebrated 5 years in France with a warm baguette, slab of cheese and some cheap, but rather lovely red wine. Our 5 year anniversary in France funnily coincided with my first year as 'a blogger'.
What a lot to celebrate!!!
Someone recently asked if I have any regrets regarding the move.  Of course Alice and I miss our families, and I have regular cravings for Sausage and Chips, proper Beer and the odd live Preston North End game. The arrival of 'baby William' in February of this year has been a real highlight though!!!  Now just over 9 months old and exploring everything from plug sockets to spare slippers, he has made us wakeup and realise France is actually a pretty nice place to bring up a child.
The hospital experience was sensational….. We had 6 amazing days in Nice Lenval, with beautiful sea views, hot coffee and croissants, and lovely, lovely medical care.
Our weekends are spent either at the beach, diving, walking in the mountains, mushrooming, skiing or just lazing by the pool…. it certainly beats Saturday afternoons walking round B&Q Warehouse.
And work is pretty good too.  The last year has seen business increase by 400% – whether this accountancy statistic means I was not doing much 12 months ago or that business is booming remains to be seen, but the quality of clients, the relationship we have with every single one of our clients and the high level of work being produced tells me we must be doing something right.
We are being recommended by printers in Italy to companies from Australia.  We are working with American advertising giants when they visit France. We are developing websites for some of the most exciting new business brands establishing in Cannes.  We are being approached by leading UK marketing agencies to set up French Offices.  We are working with L'Oréal, Coca Cola, Sunseeker and Sony….so 'yeh' we're doing OK.
This doesn't mean we have become 'just another advertising agency in France'.  I always make a point of meeting my clients face to face….. business is fast becoming VERY impersonal with agencies, freelancers and designers claiming it can all be done 'by remote'.  But this isn't meant to be a 'commercial post'….its about 5 years in France…..and 5 great years in France.
So, where we will be in another 5 years is anyone's guess – in France for sure, running Pure Design for sure, more babies…. more than likely…..