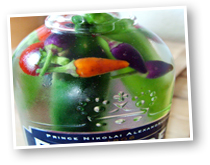 Just for a bit of fun I thought I'd share my Chili Vodka recipe.
The first step in making chilli vodka is having access to several different types of chilli – nice colourful chilli's such as Bolivian Rainbow, Hungarian Cherry, Jalapeño work best!
Take a tooth-pick and stab the chilli's all over and place them in a good quality vodka.
Leave the bottle in the fridge for 3 days and then serve with a dash of tonic water and slice of lime.
To view more recipe's or buy some rare chillis visit The Chilli Farm