2010 will go down as one of our best years in France and one that will keep us coming back to Provence again and again.

We left Grasse on the 10th November 2009 to move to Cotignac in the Var. And what a place! This area of France has fields of never ending vineyards, beautiful medieval villages, sprawling local food markets and splendid french people. A far cry from our previous house which was on the outskirts of Grasse and not a vineyard in sight.
We left our 24m2 studio house in Auribeau with a 2 year old and baby N°2 on its way to make a new life in the country – a year in Provence we decided was the plan ahead after 6 years on the French Riviera.
I'd always had a romantic desire to live in the french countryside and so we threw ourselves into it, kids and all.  We joined the local AMAP, bought chickens, got a cat (which then gave us 4 more), adopted a fox which ate our chickens, foraged for mushrooms in the local woods, picked olives from nearby fields and 'supported' our local grape growers by signing up to our local Co-Operative 'Les Vignerons de Cotignac'.
The house we rented was a beautiful 3 bedroomed villa with an olympic sized swimming pool and enough room for a mini test match and a round of golf in the garden – this meant that we could finally invite friends and family to enjoy the summer with us….. although we hadn't envisaged 8 weeks of non stop visitors…. a beautiful summer was enjoyed after a very, very wet spring.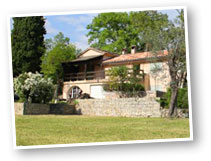 And so, we're moving!!!  After our year in Provence we are moving back to Grasse to purchase our first property in France.
The romance and love of living in the country haven't outweighed the practicalities of Riviera day to day life. The work is there, Pure Design's clients are there, our friends are there, our future lies there.
But we shall miss Cotignac, the countryside, the friends we made there and the slow pace of life. But roll on the Riviera… we're coming back, chickens and all!!!!